Remote Lakes… Remarkable Fishing
Rowdy Lake
The camp is located on this emerald green colored lake, stretching 12 miles long. Several picturesque waterfalls enter this lake. Fish for trophy Walleye, Pike and Lake Trout.
Babe Lake
Within a few minutes from camp and a half mile walk, you're fishing for Walleye, Bass and Pike. A larger lake at 2 miles with many bays and islands to explore.
Sydney Lake
A large gin clear lake abundant with Lake Trout. Also a good chance for a trophy Walleye and Pike. A 15 yard portage from Rowdy Lake next to the waterfalls.
Wyder Lake
A deep dark bottomed lake holding Lake Trout and Pike. The lake stretches for 4 miles with many bays and islands. A ¼ mile portage from Rowdy Lake.
Joyce Lake
Located across from the camp; 100 yard portage. A consistent producer of large Walleyes and Pike. A crystal clear lake 1¾ miles long.
Outlet Lake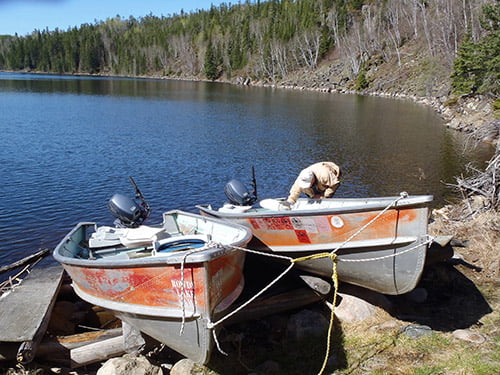 Rowdy Lake empties into this lake, creating rapids and waterfalls. A short 75 yard walk and you could be casting next to the falls. A small sheltered lake, 1¼ miles long, great for Walleye and Pike, tea colored water.
Chaval Lake
A tea colored lake producing good Walleye and Pike. You also have access into Rolston Lake by boat. A 10 yard portage near the falls, 1½ mile long lake.
Carlbom Lake
A small emerald green lake filled with Pike. A short 10 yard portage from Wyder Lake.
Lake Map